CPU Support
AMD AM4 Socket for 3rd/2nd/1st AMD Ryzen™/2nd and 1st Gen AMD Ryzen™ with Radeon™ Vega Graphics/Athlon™ with Radeon™ Vega Graphics Processors
* Refer to www.asus.com for CPU support list
Memory Support
AMD Ryzen™ 2nd Generation/ Ryzen™ with Radeon™ Vega Graphics/ Athlon™ with Radeon™ Vega Graphics/ Ryzen™ 1st Generation Processors
4 x DIMM, Max. 64GB, DDR4 3533(O.C)/3466(O.C.)/3200(O.C.)/3000(O.C.)/2800(O.C.)/2666/2400/2133 MHz Un-buffered Memory
Dual Channel Memory Architecture
ECC Memory (ECC mode) support varies by CPU.
* Hyper DIMM support is subject to the physical characteristics of individual CPUs.
* Refer to www.asus.com for the Memory QVL (Qualified Vendors Lists).
Audio
Realtek® ALC S1200A 8-Channel High Definition Audio CODEC *4
Audio Feature :
– Exclusive DTS Custom for GAMING Headsets.
– Audio Shielding: Ensures precision analog/digital separation and greatly reduced multi-lateral interference
– Dedicated audio PCB layers: Separate layers for left and right channels to guard the quality of the sensitive audio signals
– Premium Japanese-made audio capacitors: Provide warm, natural and immersive sound with exceptional clarity and fidelity
– Audio Cover: Effective shielding preserves the integrity of audio signals to ensure best quality.
Expansion Slots
AMD Ryzen™ 2nd Generation/ Ryzen™ 1st Generation Processors
1 x PCIe 3.0/2.0 x16 (x16 mode)
AMD Ryzen™ with Radeon™ Vega Graphics Processor
1 x PCIe 3.0/2.0 x16 (x8 mode)
AMD Athlon™ with Radeon™ Vega Graphics Processors
1 x PCIe 3.0/2.0 x16 (x4 mode)
AMD B450 chipset
1 x PCIe 2.0 x16 (max at x4 mode) *1
3 x PCIe 2.0 x1
Storage
AMD Ryzen™ 2nd Generation/ Ryzen™ with Radeon™ Vega Graphics/ Ryzen™ 1st Generation Processors :
1 x M.2 Socket 3, with M key, type 2242/2260/2280/22110 storage devices support (SATA & PCIE 3.0 x 4 mode)*2
AMD Athlon™ with Radeon™ Vega Graphics Processors :
1 x M.2 Socket 3, with M key, type 2242/2260/2280/22110 storage devices support (SATA mode)*2
AMD Ryzen™ 2nd Generation/ Ryzen™ with Radeon™ Vega Graphics/ Athlon™ with Radeon™ Vega Graphics/ Ryzen™ 1st Generation Processors :
2 x SATA 6Gb/s port(s)
Support Raid 0, 1, 10
AMD B450 chipset :
1 x M.2 Socket 3, with M Key, type 2242/2260/2280 storage devices support (PCIE 2.0 x4)*3
4 x SATA 6Gb/s port(s)
Support Raid 0, 1, 10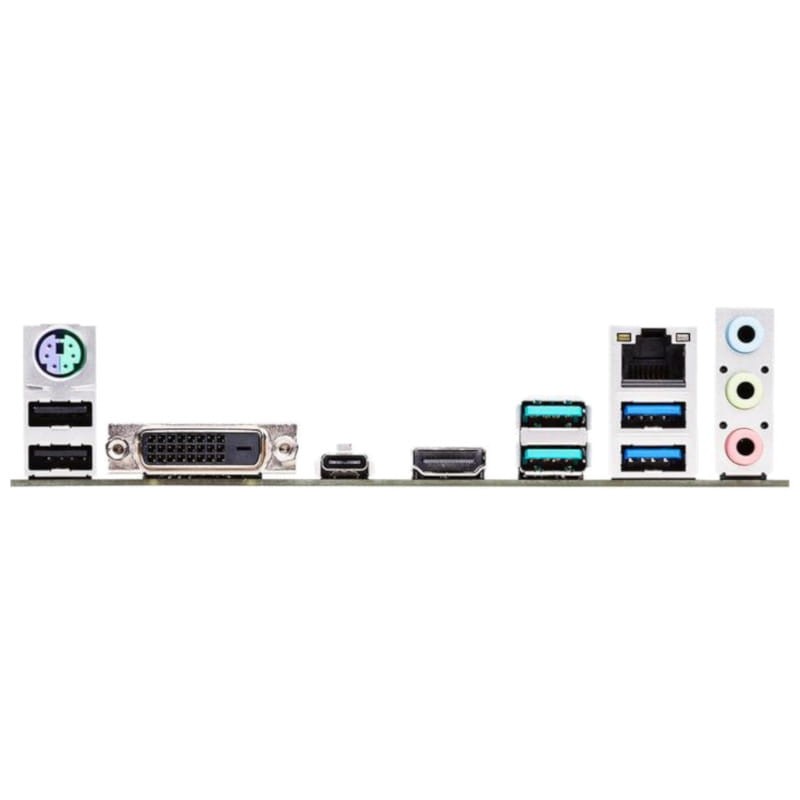 Back Panel Connectors
1 x PS/2 keyboard/mouse combo port(s)
1 x DVI-D
1 x HDMI
1 x LAN (RJ45) port(s)
1 x 5Gb/s port(s) USB Type-CTM
2 x USB 3.1 Gen 2 (teal blue)Type-A,
2 x USB 3.1 Gen 1 (blue) Type-A
2 x USB 2.0
3 x Audio jack(s)
TUF B450-PRO GAMING ราคา
JIB 3,090 บาท สั่งซื้อ
***ราคาอาจจะมีการเปลี่ยนแปลง***